Risa was already familiar with French wines when she was in Japan but didn't know much about California wines. I had almost no knowledge about wines. So, we started exploring wines together.
Starting in the fall of 2001, we took a few wine courses in Menlo Park such as "Sensory Evaluation of Wine" (photos) and "Napa and Sonoma: Side by Side" (photos April 2nd, 16th, 23rd, 30th, 2002) ). We learned a lot about different varietals of grapes, how and where the wines are made, and how to see, smell and taste the difference. We also got to meet very nice people and some of them are our best friends now.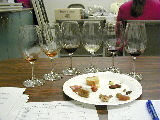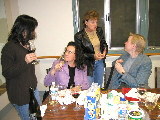 In April 2002, we had a chance to join the wine class "field trip" to Cakebread Cellars in Napa and Ravenswood Winery in Sonoma. At Cakebread, Mr. Bruce Cakebread was kind enough to guide the tour for us himself. Click here to see the pictures.
We also started attending the events such as Family Winemakers of California Tasting and Zinfandel Festival that took place at Fort Mason in San Francisco.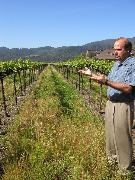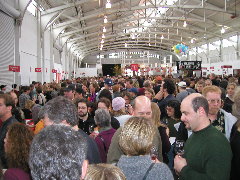 In July 2003, Risa and I attended IPNC that took place in Willamette Valley (near Portland) in Oregon (photos). It is an event where Pinot Noir winemakers from all over the world get together and more than 500 people attend to taste their wines. Risa and I were certainly looking forward to tasting good Pinot Noirs but we were pleasantly surprised by the quality of the food. Every meal was like a full-course menu at a four-star restaurant. It was also spectacular to see student volunteers swarm around the tables serving 500+ people at once.