You only need one regular digital camera if your subject doesn't move (building, car, etc.)
Take one picture, move the camera a few inches to the right, and take another. If you are taking pictures of something big like a building, you can move up to one feet to increase the effect.
Try to keep one part of the subject (say, one particular window of the building) at the center in all images.
With your favorite image viewing program, display the first (left) image on the right and second on the left side by side for cross-eyed viewing.
If you can print the two images (the first image on the left for parallel viewing), then you can use an inexpensive ($4) True-Vue 3D viewer mentioned below.
Stereo Viewer
I bought the True-Vue 3D (R) viewers from American Paper Optics, Inc. (3080 Bartlett Corporate Drive, Bartlett, TN 38133, 1-800-767-8427 , 901-381-1515 , Fax 901-381-1517). It is $4 per unit. You can fold it and send it to your friends with stereo pictures as a greeting card. I figured out that having two sets of stereo pictures printed in 5" x 7" and cutting them in half will make perfect 5" x 3.5" stereo picture cards for the viewer.
Creating Stereo Images
I wrote a Python script to compose two stereo pictures into an image with 5:7 aspect ratio. Here is how to use the script (Windows):
Install Python 2.7 (32-bit) from Python.org. Python Image Library (PIL) currently doesn't support Python 3.X.
Install PIL 1.1.7 from Pythonware.com.
Download Compose5x7.py.zip and extract the Compose5x7.py script.
Prepare two stereo pictures in the .mpo format. If your (3D) camera doesn't save images in .mpo, use StereoPhoto Maker or a similar program to convert.
Enter the command:
\pathToPython2.7\python.exe Compose5x7.py path1\firstImage.mpo path2\secondImagePath.mpo
This produces a JPEG image with the file name firstImage_secondImage.jpg.
Upload the pictures to a gallery/printing website such as Flickr, Shutterfly, Snapfish, Picassa, and Photobucket. Be sure to choose 5" x 7" and order prints.
On the Mac (OS X 10.9 Mavericks), I get "IOError: decoder jpeg not available" for the command "leftRegion = leftImage.crop(box)". There are some articles about this on the Internet but I haven't found a solution yet. Let me know if you did.
If you know how to use Photoshop, GIMP, etc., you can of course lay out the images into a 5:7 aspect ratio bitmap image in this format manually. I once wrote a few scripts for Photoshop and for GIMP but I'm not maintaining them anymore.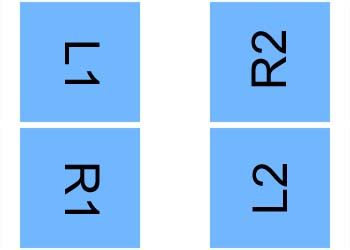 Stereo Cameras
My current 3D camera is Panasonic DMC-3D1. It was already affordable (~$300) when it came out in 2012 (currently ~$220 as of Nov 2013). It is faster and more reliable with auto focus than Fujifilm W3. It does not feature a 3D display like W3 does. However, you can connect the camera directly to a Panasonic 3D TV and have it controlled by the TV's remote.
I still own the Fujifilm FinePix Real3D W3 that I purchased in early 2011. Original price was fairly expensive (~$600) but it had come down to $300 (on 1saleaday.com) when I bought it. The image quality is that of the digital cameras at half the price (naturally) but the glasses-free display is amazingly good. The two lenses are about 3 inches apart (like human eyes) and it turns out you get too much 3D effect (parallax) for most (close) shots. Panasonic DMC-3D1 and HTC Evo 3D have their lenses about one inch apart and they are better in this regard.
HTC Evo 3D was my mobile phone from 2011 to 2012. This 1.2 GHz dual core Android phone is already zippy and fun to use. The twin camera and the glasses-free display (like Fujifilm W3) add extra enjoyment.
The image below shows my first pair of stereo cameras that I set up (circa 2001). I created my cheap stereo camera support out of a ruler and screws. I super-glued the wing nuts on 1/4" x 1" socket screws (coarse thread) and used them to secure the cameras on the ruler. I would just use both hands and try to press the shutter buttons at the same time. Later on, I used two Olympus cameras and used one remote to release shutter on both cameras. There was still timing lag.
I also used Loreo 3D Lens in a Cap for my digital SLR for a while. This product allows one camera to take a stereo pair image. You can freeze the water from the fountain and capture the 3D image for instance.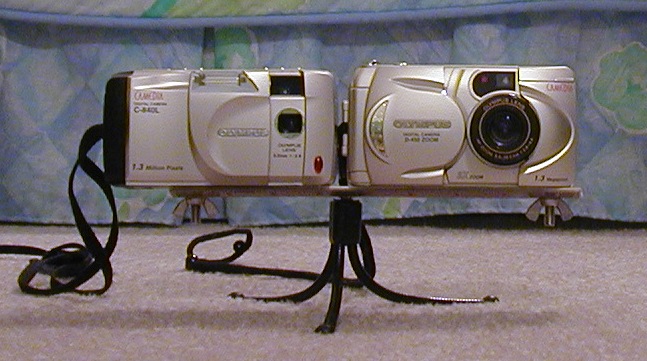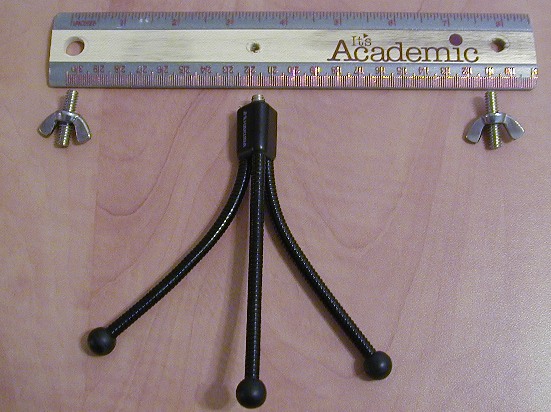 Stereo 3D Displays
Panasonic TC-P54VT25
3D HDTV with active shutter glasses
LG 55LW5600
3D HDTV with "Cinema 3D" passive (polarized) glasses
Sharp LL-151-3D
glasses-free 3D PC monitor
LG D2342P
3D PC monitor with passive (polorized) glasses
Viewsonic 3DPF8
glasses-free 3D digital photo frame
Software
Stereo Photo Maker is the Swiss army knife of stereo 3D tools. It can display various stereo 3D file formats in side-by-side, interlaced, page-flip, anaglyph, etc., do a slide show, and also batch-convert between file formats. And it's freeware.
How I Got Hooked
Many of you must have played with ViewMaster (R) as a child. I had forgotten about it until someone at work showed me his ViewMaster 3D slides that he made on his own. I just happened to have a sample of a 3D viewer called "True-Vue 3D" from American Paper Optics, Inc. and I realized I can easily make my own 3D pictures for that Viewer using my digital cameras, Photoshop and Ofoto.com. That friend also told me a nice story: his aunt used to take stereo pictures way back when his parents were dating. So he got to see his parents before they even got married in 3D.
Gallery
Take a look at the
3D photo gallery
created with
Stereo Photo Maker
---
April 21, 2009 - Komei Harada