QuickTime VR
Apple's QuickTime VR is a file format that enables 360-degree "virtual reality" view. You can look around 360 degrees by dragging the mouse in the QuickTime Player or the browser window.
Scrolling Panorama
I first saw the scrolling panorama images at Night View of Seto that was developed by a person by the name of M. Murakami. I later created a new version based on it. See the examples in the IPNC page. The script can be downloaded from here.
Photosynth
Photosynth is a recent outcome from Microsoft Research and it is amazing. Regular panorama programs stitch the images by seeing how the images overlap. In other words, they only figure out the orientations of the camera at the same position. The Photosynth program also calculates the position of the camera for each shot taken. The result is a virtual reality view where you can look around and move back and forth through the images. Check out the TED video that explains the feature so well.
Here are some of the "synths" that I uploaded.
Links to Amazing Gigapixel Images
Stitching Programs
I recently learned that there is a Wikipedia page "Comparison of photo stitching applications (software)" listing all major panorama tools.
I had been a loyal user of The Panorama Factory since 2001 but I just switched to PTGui (79 euro ~ $109). First of all, it is many times faster than The Panorama Factory. I also found articles saying PTGui is faster than its current competitor Autopano Pro (APP). PTGui's is smart and it can create panorama image or QuickTime VR with relatively simple steps and it also allows users to tweak many parameters if they want.
Smoky City Design's The Panorama Factory ($79.95) is also a very powerful program. The automatic (Wizard) mode usually does a great job but you can also tweak the parameters for some of the steps. To get the money's worth, I recommend reading the User's Guide (PDF) carefully. The UI for some features are somewhat obscure (for instance, double-clicking on the edge of the stitched region to open the parameter dialog). This program had a tendency to crash when saving a large image as QuickTime VR but it became constant with the latest Version 5.3. That was another big reason for me to switch to PTGui.
I hear PhotoMerge in Photoshop does such a good job that you don't need to buy a separate program if you own CS3/CS4.
As for free software, hugin looks fairly interesting.
---
Gallery


Lake Tahoe, Squaw Valley Ski Resort
Sometimes people move between the shots and leave ghostlike effects in the panorama image. They can be fixed using image editing software, but I would just leave them there for fun.



Ridge Winery
I told my wife to move around so that she would appear three times in the picture.



The Infinity docked at Canada Place
Gross tonnage: 91,000; Guest capacity: 1,950; Cruising speed: 24 knots; Length: 965 feet! We were in Vancouver just for the weekend and we didn't set foot on this cruise ship to Alaska.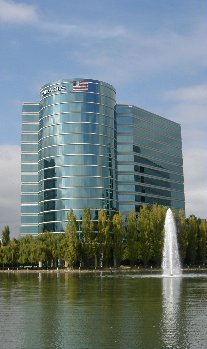 Oracle Building with an American Flag A vertical panorama picture



3DO Halloween Party In the company cafeteria



From Diamond Peak looking down Lake Tahoe
QuickTime VR



Palo Alto Byxbee Park
This is an example of QuickTime VR. The pictures were taken at Byxbee Park near Palo Alto Airport.



Lake Tahoe Incline Village Vista Point




Fulton Street, Palo Alto - December 2001




Shinjuku, Tokyo - December 2002




Shinjuku, Tokyo - December 2002




Shibuya, Tokyo - December 2002

---
See more panorama pictures in the
IPNC
and
Cancun
pages.
---
March 29, 2010 - Komei Harada