I always carry my digital camera around and I take pictures of everything. Some of the things, which you wouldn't think of taking a picture of, actually come out quite nice very often. I hope some of these examples will motivate you to start using a digital camera.
Click on the small pictures with

to magnify them.
---
Memo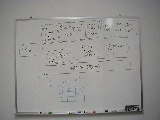 In a meeting room&nbsp You discussed vigorously drawing things on a white board until you realize your scheduled time is up and some people are already waiting outside. Did this ever happen to you? :-)
---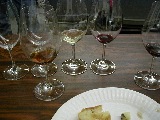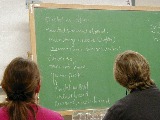 In class
&nbsp Similarly, it is often easier to use a digital camera to "capture" the blackboard and the teaching materials. These pictures are from the wine class that my wife and I took.
---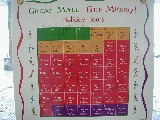 Store signs
&nbsp This is the holiday hours of the Bay Are Great Mall. This would be very useful, but only for the holiday season. I wouldn't want to spend time writing this all down.
---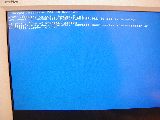 Debugging
&nbsp The error message is on the screen but the screen capture won't work because the computer has already crashed.
---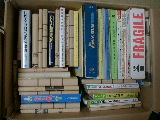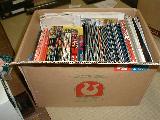 Packing
&nbsp When I was leaving Japan, I packed my belongings into boxes and stored them in a room to make space for my parents. For each box, I took one picture of the contents, and another showing how the box looked so that I know exactly which box to open when I need something. I also printed the pictures and glued them on the outside of the boxes.
---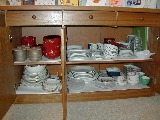 After a big home party, it is hard to put all the dishes nicely back in the buffet. I put a print-out of this pictures on the backside of the door of our buffet.
---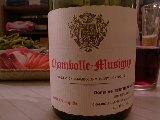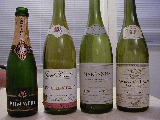 Wines!
&nbsp My wife and I love drinking wine. We take pictures of the lables of most of the wines we had at home and sometimes at our friends' places and restaurants.
---
Food
No matter how nicely decorated, the food will be gone when it ... served its purpose. I often take pictures of the art of food.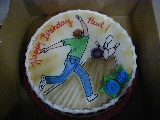 His birthday party was held at a bowling alley.
---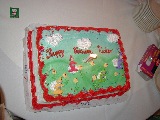 At a big birthday party that a friend of mine and his wife threw for their son.
---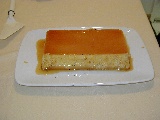 A friend brought a delicious flan to our home party.
---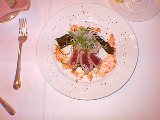 I think I was sampling the course menu for our wedding and emailing the pictures to my wife who was in Tokyo at that time.
---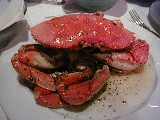 At the restaurant "Crustacean" in San Francisco.
---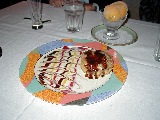 Beautiful dessert, also at Crustacean.
---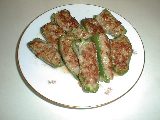 My cooking repertoire is so limited and I realized it is easy to take pictures of everything I cook.
---
Shopping
When I shop around looking for something, I forget which item was sold where by the time I get home. I take the pictures of the store front and the product (and the price if possible) that I liked or I thought to be interesting. I don't want the store clerks to notice it and I won't use flash.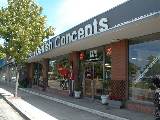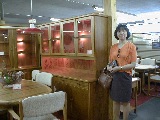 While I was sneakingly taking pictures, the store owner noticed me in the act and told me that once there was a Japanese guy ;-) who came to his store, took the pictures of the furniture to show his wife who was pregnant and waiting in the car.
---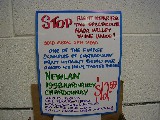 Product descriptions
&nbsp This was taken at a wine store where they have their comments on every wine they carry. When we drink the wine we bought, we would like to compare our impression with their comments so that we can find the wines we like next time we visit.
---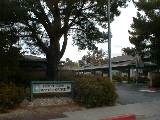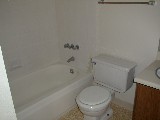 Apartment hunting
&nbspWhen we were looking for an apartment in 1999, we took a lot of pictures of the apartments we visited. Taking the pictures of the bathrooms was necessary since it's important for the amenity but apartment guides don't show those pictures.
---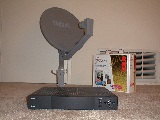 eBay
&nbsp I think digital camera is a must for eBay sellers. I only sold two items on eBay. This was one of them.
---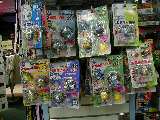 Chinese version of the Pokemon toys.
---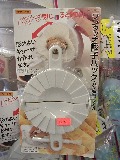 Potsticker Skin Wrapper
&nbsp Wrapping potsticker skin by hand needs some skill. Someone came up with the idea of creating a helping device for that.
---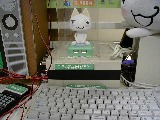 USB Hub with a typing cat
&nbsp Seen at a "Tokyu Hands" store in Tokyo. The cat will type on his little keyboard as you type on yours.
---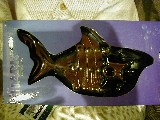 A wine bottle opener shaped like a shark.
---
Goods
Same kind of unique items as mentioned above. But these are the ones our friends showed to us. It often takes some courange to ask "May I take a picture of that?"
---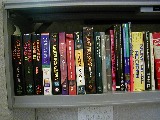 The bookshelf of a colleague at work. Now I know I can come to his cubicle when I need to take a look at one of these books.
---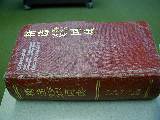 In my Chinese class, this is the dictionary that the teacher has been using for a long time.
---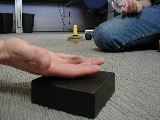 A colleague showed me a spin that floats in the air.
---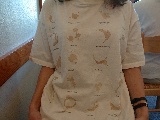 This T-shirt features the stains of different kinds of coffees: French Roast, Cafe Au Lait, Mocha Java, ...
---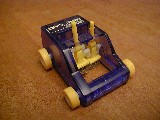 Cleaner Mini Cart
&nbsp This tiny cart actually sweeps with its brooms as you push it on your desk.
---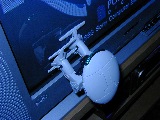 Climb@tron
&nbsp This robot walks on smooth vertical surfaces using the suction cups on its legs.
---

"Complaint Dept.: Take a number"
&nbsp
---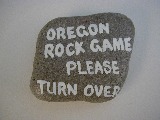 What do you think it says on the other side?
&nbsp Answer: "OREGON ROCK GAME. PLEASE TURN OVER"
---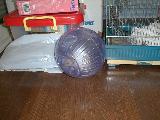 Hamster Exercise Ball
&nbsp My friend took his hamster out of the cage and put it inside the ball. The ball rolled around everywhere in the room as the hamster ran in the ball. I didn't know such a thing existed!
---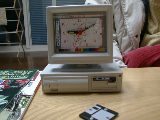 A clock shaped like a PC.
---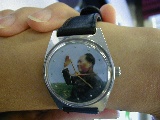 Mao Zedong wrist watch
&nbsp He waves his hand.
---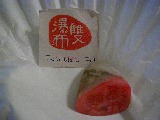 An american friend showed me the seal with his Chinese name.
---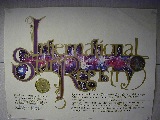 A colleague hang the certificate of her International Star Registry on her cube wall. There is a star in a galaxy that was named after her. She got it as a birthday present.
---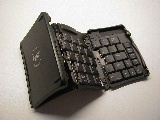 Foldable keyboard for PalmPilot
&nbsp I was fairly impressed when a colleague showed it to me.
---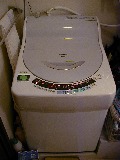 All-In-One Fully-Automatic Washer/Drier
&nbsp This is the model my parents bought. These space-saving washer/drier machines are becoming a big hit in Japan.
---
Gifts
You spend a lot of time choosing a gift for your friend or family member. However, after you sent it, you might forget what it exactly looked like, or even which item you decided to give. (I know I would. My wife wouldn't.) As for the gifts and cards you received, you want to be looking at them often, but you don't want to tear them or break them.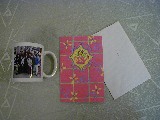 The students of the class my wife taught gave her a mug with their picture on it and a card with very sweet messages.
---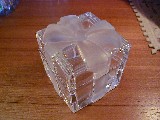 From a friend of my wife's.
---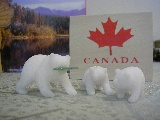 A sourvenir from a friend couple.
---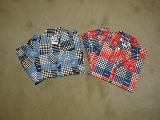 Pair pajamas from my wife's brother and his wife.
---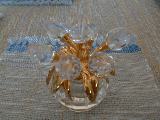 A birthday gift that we sent to my mother.
---
Events and Happenings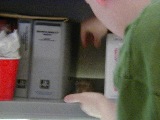 A Rodent at Work
&nbsp While I was working in my cubicle, a hamster stuck his nose out of my bookshelf. I was scared to death because I thought it was a big rat. It turned out to be a hamster who had managed to escape from his cage in one of my colleague's cube. Someone sent a company-wide email. Luckily, the owner came over and rescued him (see photo) before the Facilities people came to "handle" him.
---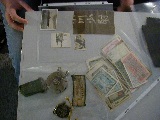 Kamikaze Memorabilia
&nbsp While one of my colleagues was checking the stuff that his grandfather had left for him, he found a few items that a kamikaze pilot was carrying when he crashed into an aircraft carrier. His grandfather was a salvage diver on that ship. He brought the items to work and showed them to us. There were a few photos and a letter that the pilot received from a friend. I was the first one to translate the letter after 55 years.
---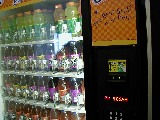 $85.93 for a Snapple
&nbsp This vending machine at work is known to show $85.93 when you choose the Snapple in rack "B5".
---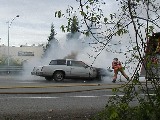 Car on fire
&nbsp A car was caught on fire on Highway 101 near our apartment. We belive the driver had gotten out of the car safely before we saw the scene.
---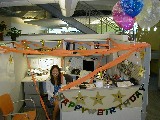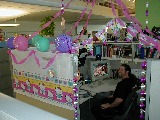 Happy Birthday!
&nbsp There seems to be tradition of decorating someone's cubicle on his/her birthday.
---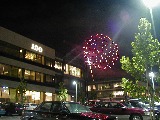 Fireworks
&nbsp The 3DO buildings are located near the Port of Redwood City and it is a perfect place to see the Redwood City fireworks. We had a Fourth of July party and enjoyed seeing the fireworks.
---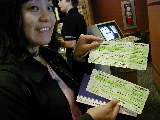 I was seeing my wife off at the San Jose airport. She was on a business trip to Orlando, FL with a stopover at Chicago. Instead of San Jose to Chicago and Chicago to Orlando, the airline clerk gave her two boarding passes for Chicago to Orlando.
---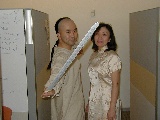 Halloween
&nbsp Our company has a Halloween costume contest every year. This year, I dressed up as Li Mu Bai from Crouching Tiger Hidden Dragon and won the second prize!
---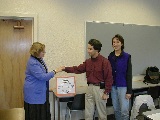 In our Chinese class, we once did a role-playing. I was in the role of visiting an open house with a Century 21 agent.
---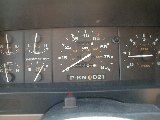 The "Mile100K" problem
&nbsp The odometer of my 1992 Ford Explorer only has 5+1 digits. This is when it goes back to zero after driving 100,000 miles.
---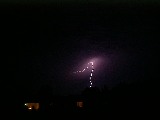 There was a big thunderstorm in the fall of 2000. I set my camera to "sequence mode" and shot some hundred pictures hoping to get some pictures of lightning. I got a few good shots and deleted the rest of the pictures. I tried the same thing during the Leonid Meteor Shower in November, 2001 but couldn't get any shooting star pictures.
---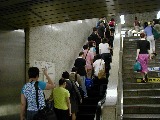 In a Tokyo subway station
&nbsp It was hard to pick a category for this one. I took this picture to show that, in Tokyo, people stand on escalators on the left side to make room for those who want to run up and down the escalators.
---
Art and Display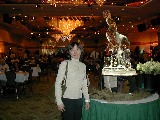 Sculpture of ice in a hotel restaurant in South Lake Tahoe.
---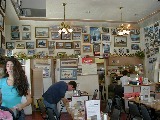 The walls of this Restaurant is covered with pictures of trains, from steam locomotives to French and Japanese bullet trains.
---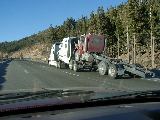 Piggybacking
&nbsp I was so impressed when I first saw this.
---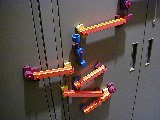 Found at work: These rails and pendulums stick on the locker doors by magnet. You can create a little roller coaster for the marbles.
---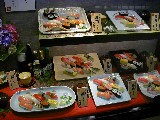 Special Sushi Set: 3,000 yen
&nbsp This is a typical showcase display in the front of a restaurant in Japan. They look delicious but they are all made of wax.
---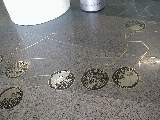 Tokyo, Osaka, Nagoya, Fukuoka, Sapporo
&nbsp On the floor of the new international terminal of the San Francisco Airport. Inside each circle is the aeronautical chart for each airport.
---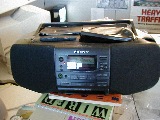 Natural Art
&nbsp A colleague left his boombox in his car in the scorching-hot sunshine. He says it still works perfect as a radio.
---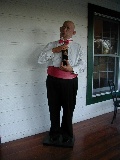 At the Cline Cellars winery in Sonoma, CA.
---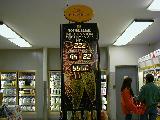 Still Counting Up?
&nbsp I wonder what happend to those millennium countdown clocks.
---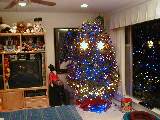 A smiley Christmas tree at our friends' house.
---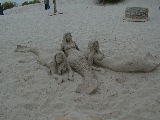 Seen at Carmel Beach
&nbsp This is totally made of sand.
---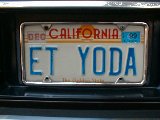 License Plates
&nbsp People try to be very creative when it comes to license plates. They deserve a picture.
---
Wardrobe
The most frequently-asked question about digital pictures from my wife is "What was I wearing when we went to ____'s home party?" If we had time and energy, I guess we could create a catalogue of all her wardrobes with pictures and give each one a unique ID so that she can write it down in her notes.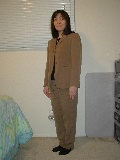 A new business suit she had just bought.

---
Visual Messages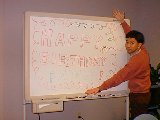 Happy Birthday!
&nbsp I emailed this to my father on his birthday.
---
Merry Christmas!
&nbsp Coincidentally, two of my colleagues came up with a similar idea and asked me to take their pictures so that they could email them to the people they were working with remotely.
---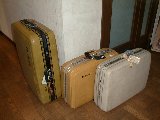 My parents asked me to bring back one of the suitcases when I came home. I emailed them this picture and asked them which one I should bring.
---
April 19, 2009 - Komei Harada