Note: It is almost impossible for us to remember or even pronounce names like "Fjaðrárgljúfur". But most place names in Iceland are straightforward, like "Feather River Canyon". I added translation to each name below (disclaimer: may not be accurate) to help us talk about these places like "How do you get to that 'Black Waterfall' ?"
Click on the thumbnails below to see the pictures. Or, if you only want to see the photos, go to my Smugmug gallery.
Reykjanestá ("Steamy Peninsula's Toe")
Our first stop was Reykjanestá at the tip of southwest peninsula near the airport. Volcanic activities create huge cliff and jagged rocks.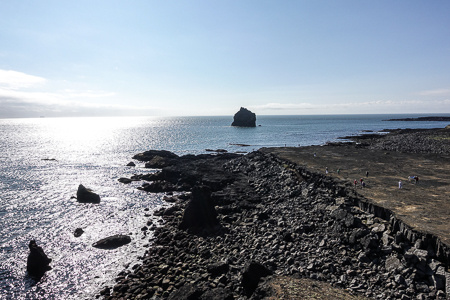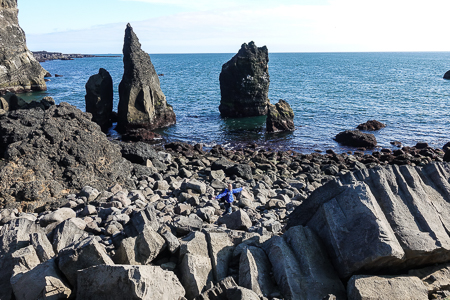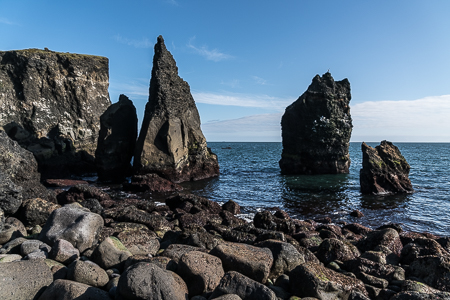 Þingvellir ("Assembly Field")
National park featuring the rift valley created by the Eurasian and North American tectonic plates drifting away (2 cm a year), which is also the historical site of national parliament. Kerið ("Basin") is a volcanic crater lake 40 minutes awway from Þingvellir.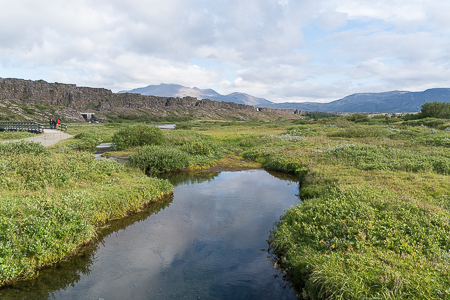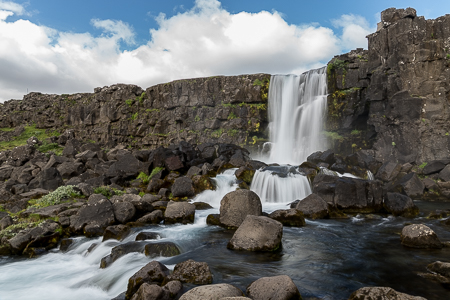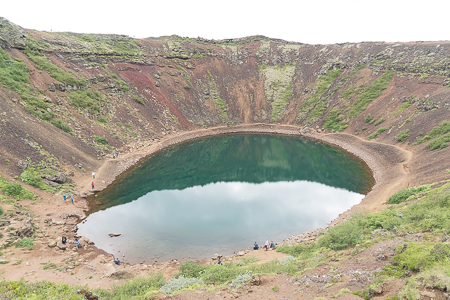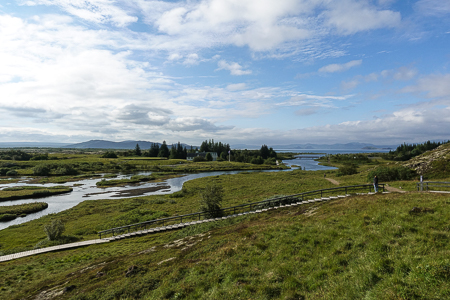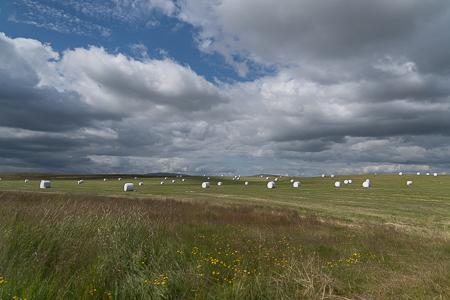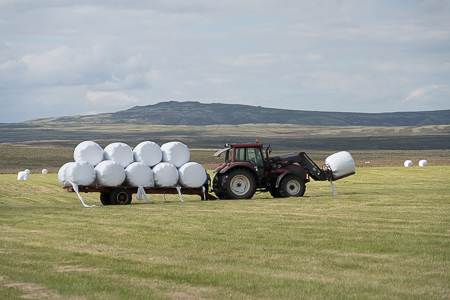 Bruarfoss ("Bridge Waterfall")
Komei & Risa's choice:
This extremely photogenic waterfall is in a private land (technically) and a little hidden but not too hard to find if you watch
this video
in advance and ask other people in the area.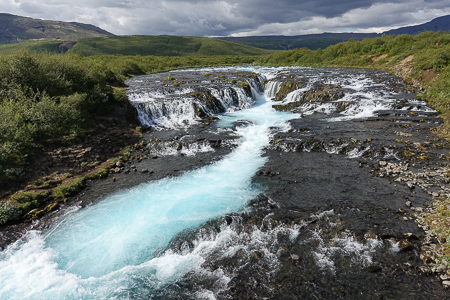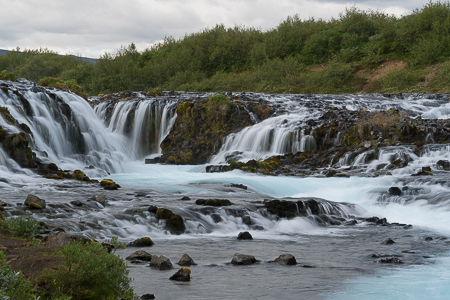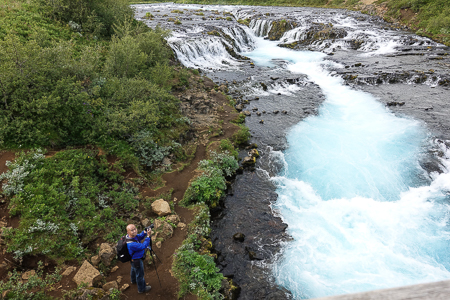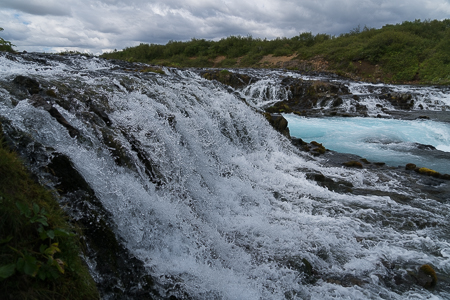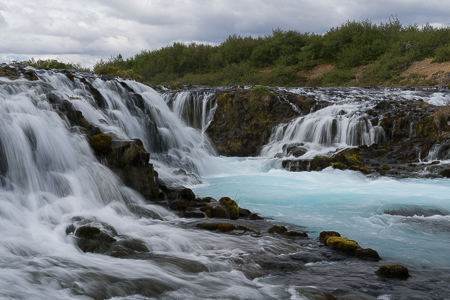 Strokkur ("Churn") Geysir / Gullfoss ("Golden Waterfall")
Part of the "Golden Circle" and there are many day tours from Reykjavik.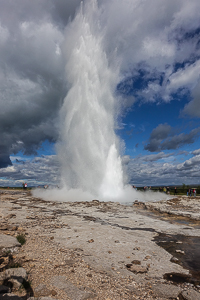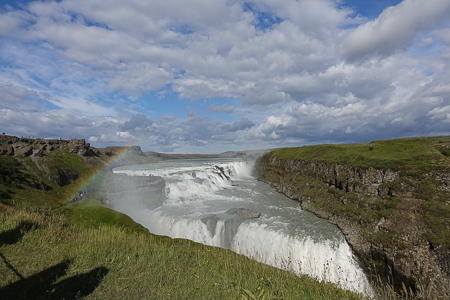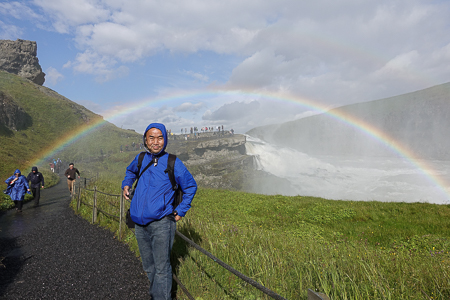 Seljalandsfoss ("Sell Land Waterfall")
Beautiful waterfall where you can walk behind the fall. You would recognize it from the cover of many Iceland travel guides ;)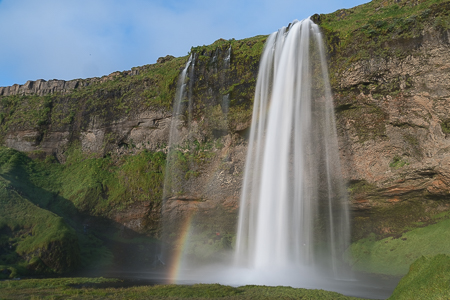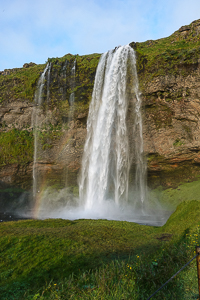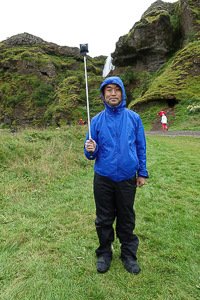 Skógafoss ("Forest Waterfall")
It's amazing how the river is so wide and flat and falls straight down into the waterfall like a big aqueduct.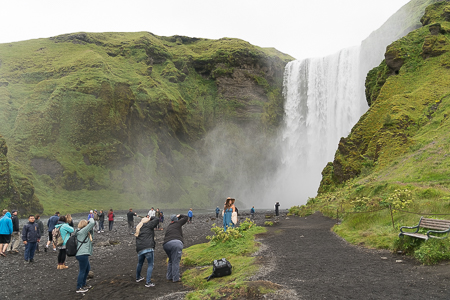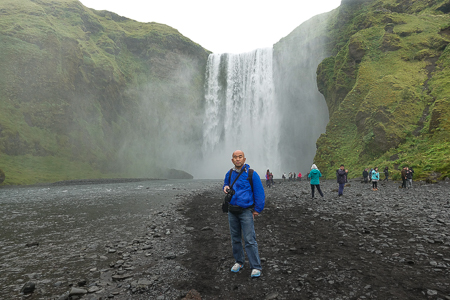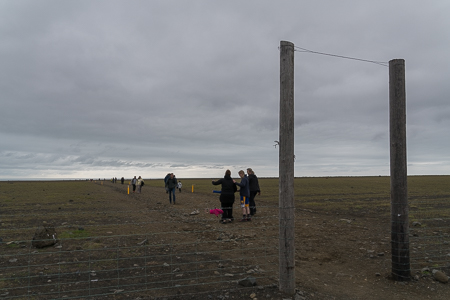 Dyrhólaey ("Door Hole Hill Island")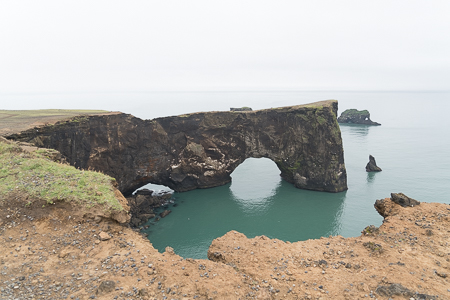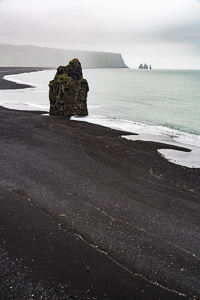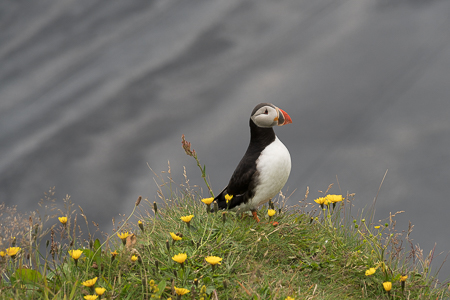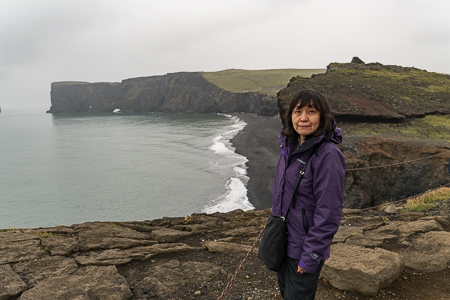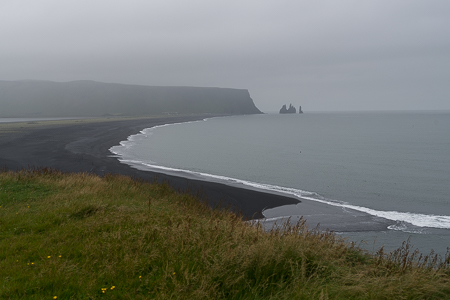 Reynisfjara ("Reynir's Beach"?)
Basalt columns, collapsed cave, black sand beach, and pointy rocks in the water create spectacular landscape.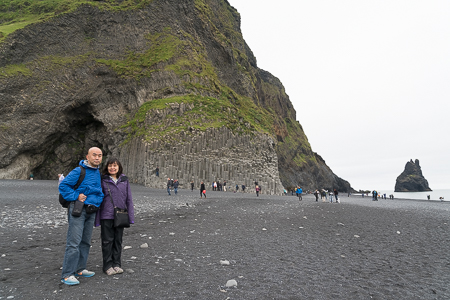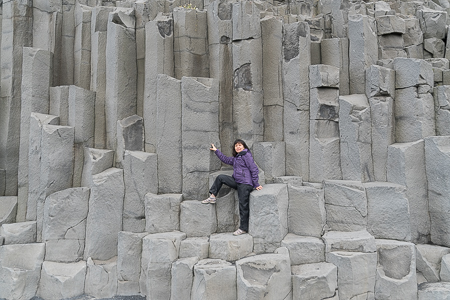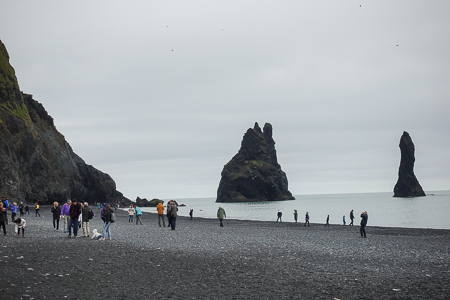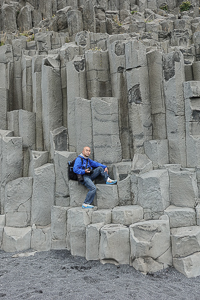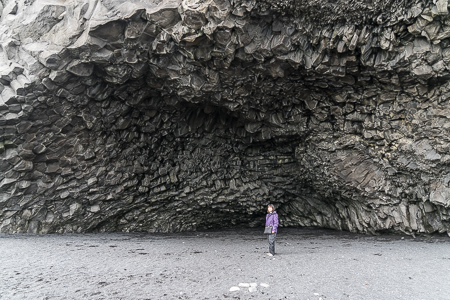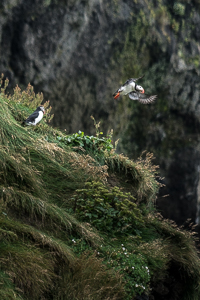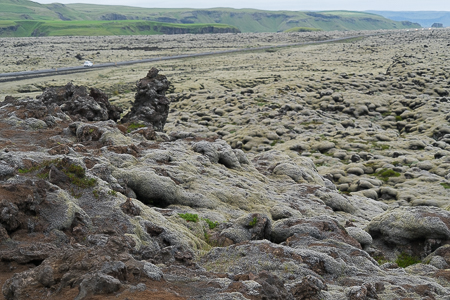 Fjaðrárgljúfur ("Feather River Canyon")
Komei & Risa's choice: Gigantic plates of rocks randomly sticking into the canyon. Pictures cannot convey the scale and maybe that's why relatively few people come to see it.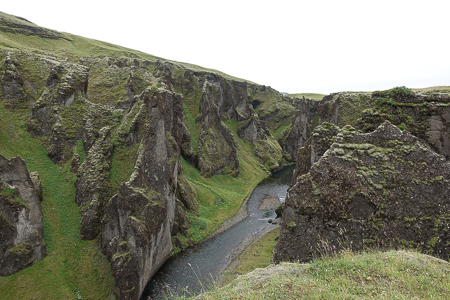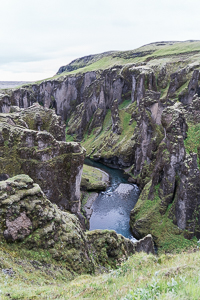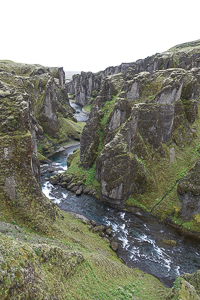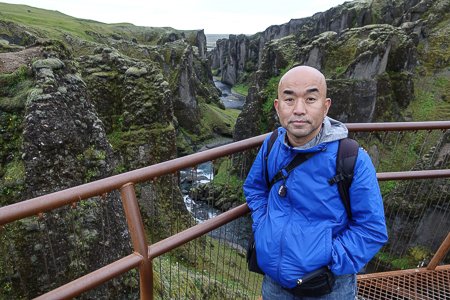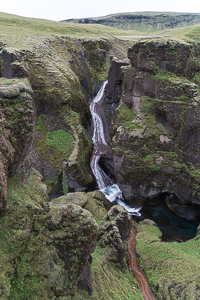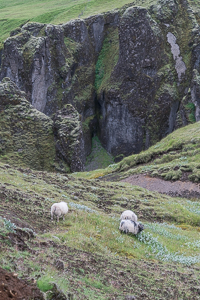 Svínafellsjökull ("Pig Hill Glacier")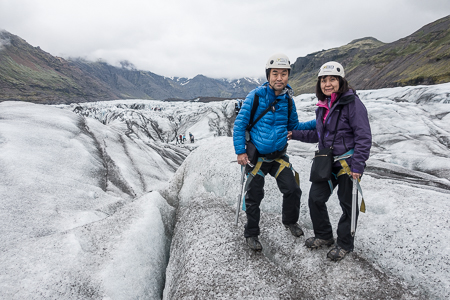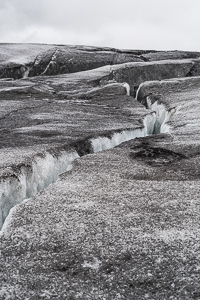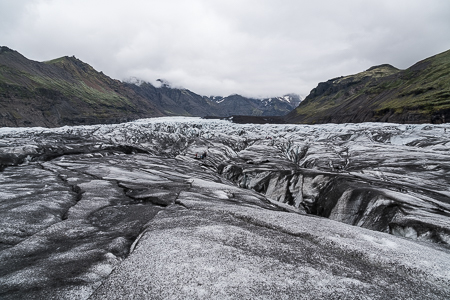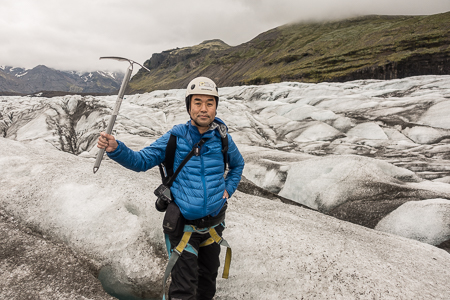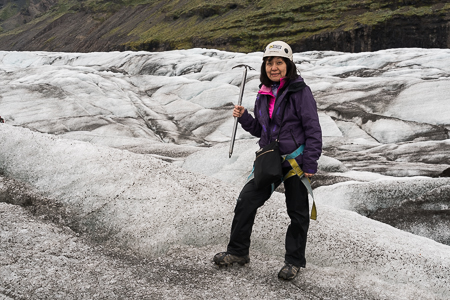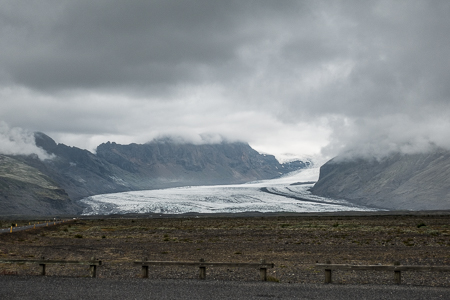 Svartifoss ("Black Waterfall")
About 20-minute hike into the mountain. Totally worth it.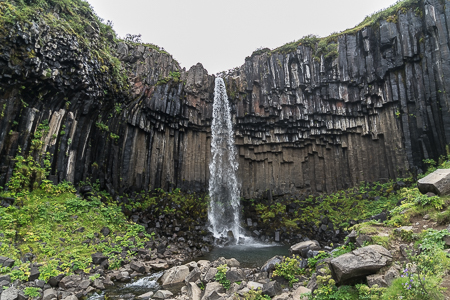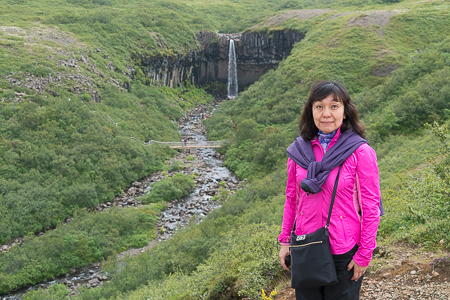 Jökulsárlón ("Glacier River Lagoon")
One of the most famous sites in Iceland. Icebergs floats away from the glacier into the lagoon and eventually into the sea. Photographers' and moviemaker's dream (James Bond, Lara Croft, Batman, ...).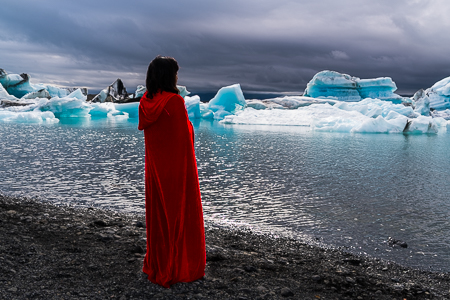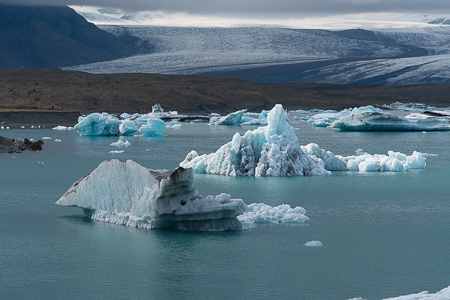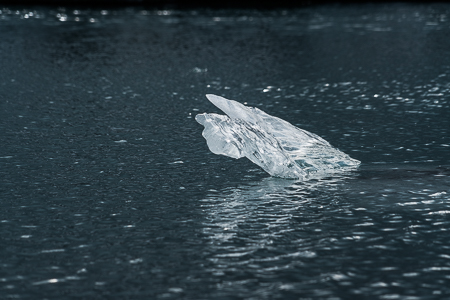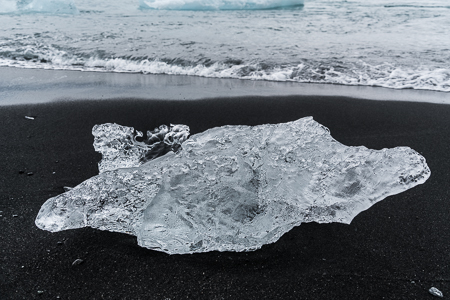 Folaldafoss ("Foals Waterfall")
Komei's Choice It was on a gravel road (Route 939) with no other people or car in sight. You only hear the sound of the waterfall in this scenery that looks like from another planet. It was the most surreal feeling.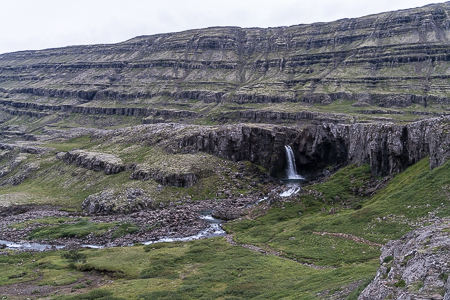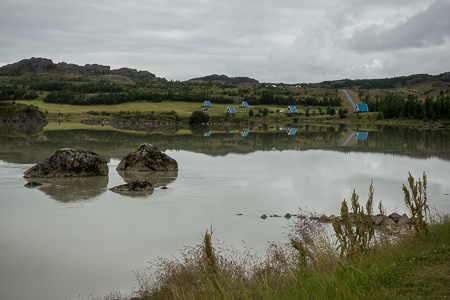 Krafla Power Plant
One of Iceland's largest power stations. There is a small visitor center where you can learn about geothermal power generation.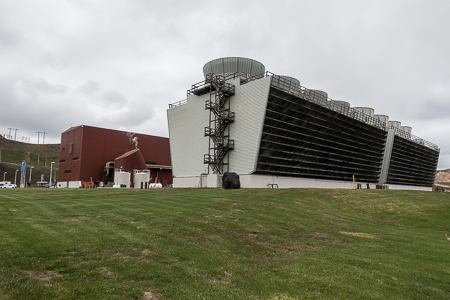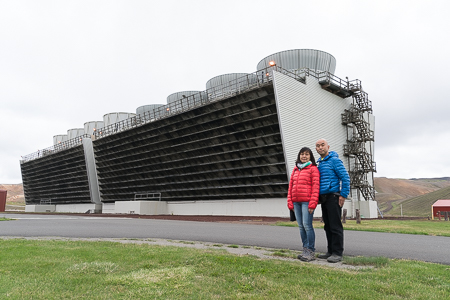 Dettifoss ("Fall Waterfall")
Komei & Risa's Choice: You can walk right up to the waterfall (east bank) and feel the power of the largest waterfall in Europe. 35-minute drive (gravel road) from Ring Road, 10-minute walk from parking.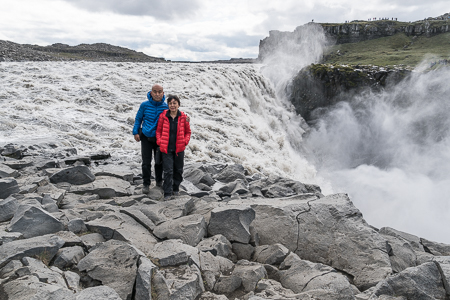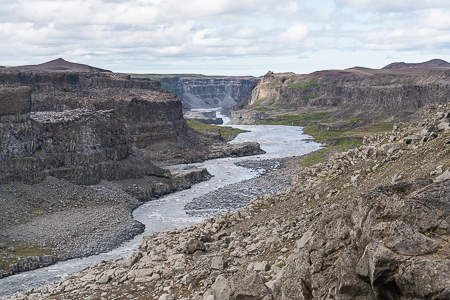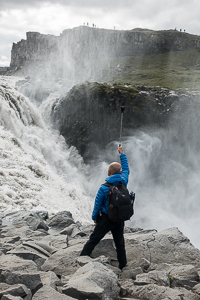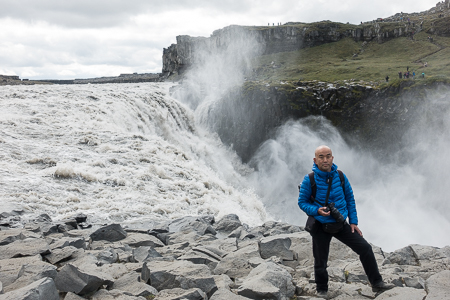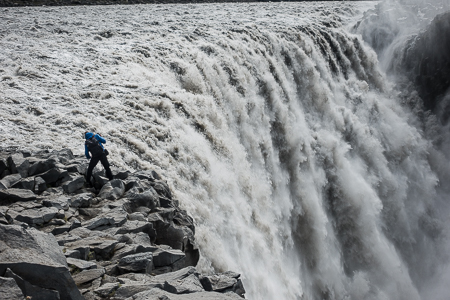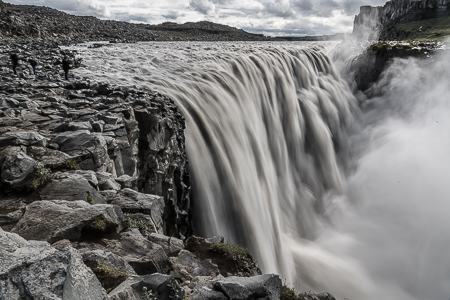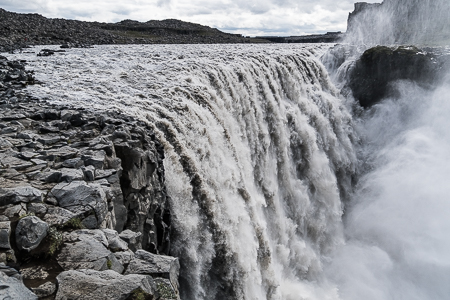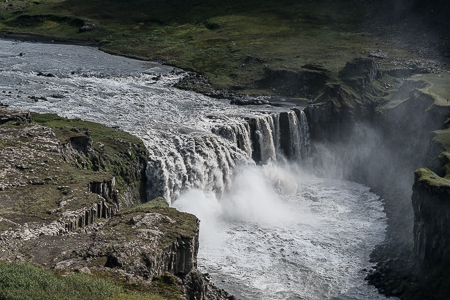 Ásbyrgi ("Shelter of the Æsir")
This horseshoe-shaped canyon is surrounded by 100-meter cliffs that are upright like the wall of a fortress. 35-minute drive from Dettifoss East Bank parking.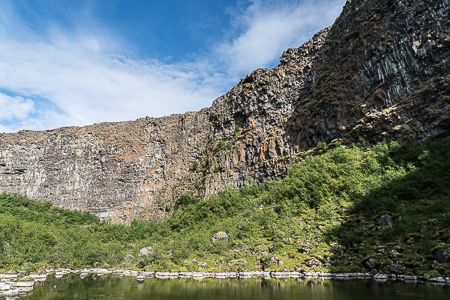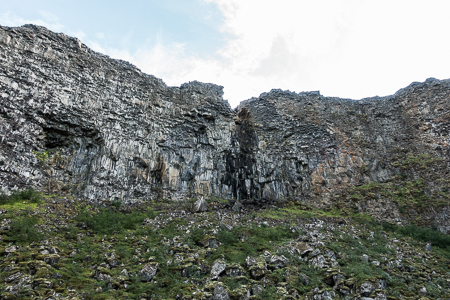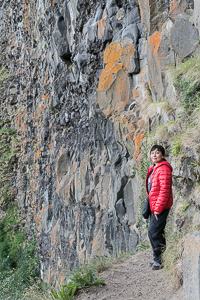 Goðafoss ("Gods Waterfall")
Another gorgeous waterfall and it's right on the Ring Road. Think of 30% scale mini Niagara falls :)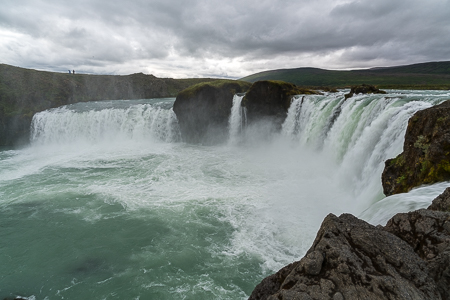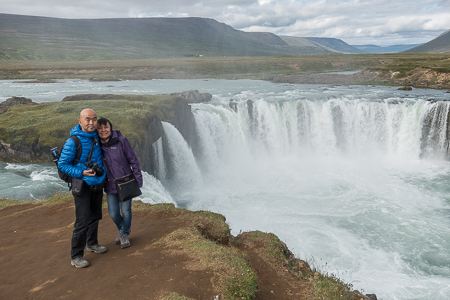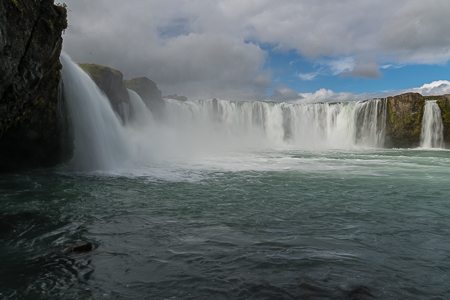 Grjótagjá ("Rocks Chasm")
Beautiful thermal spring inside a cave.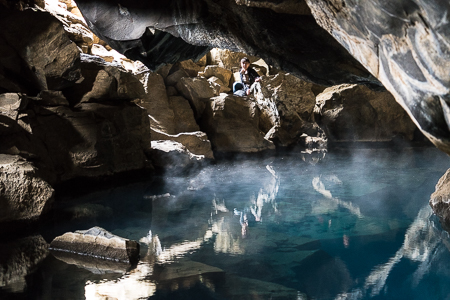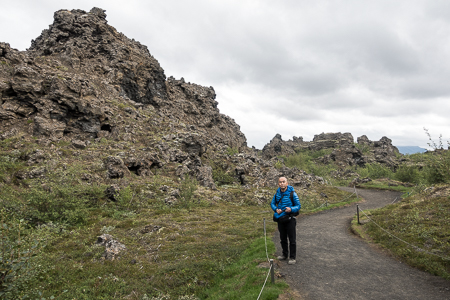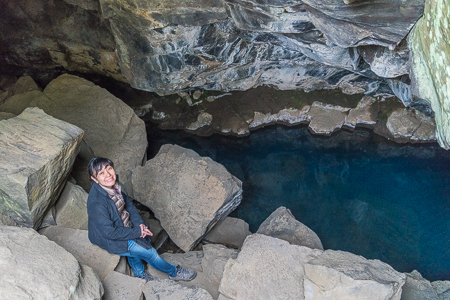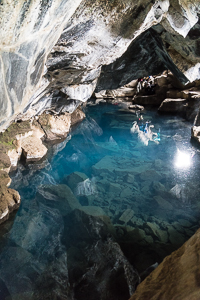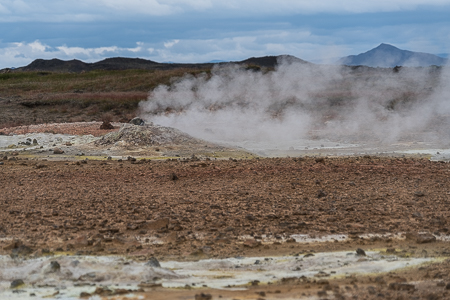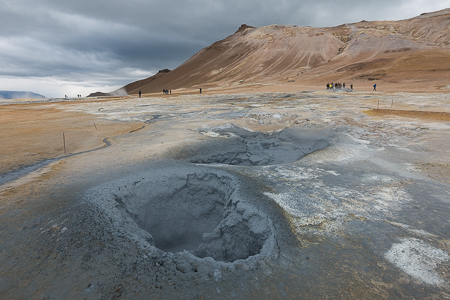 Aldeyjarfoss ("Aldey Waterfall")
This photogenic waterfall is 50-minute drive from Ring Road (and 10-minute walk from parking). That means there is a good chance there are no other tourists.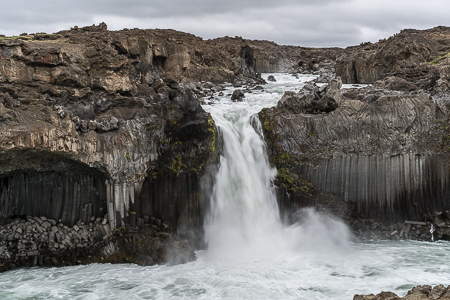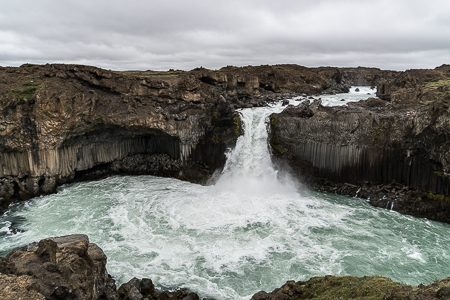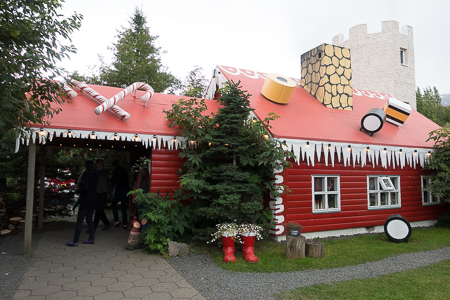 Vatnshellir ("Lake Cave")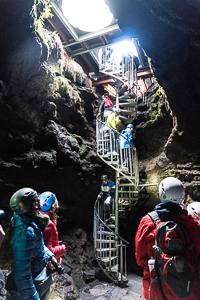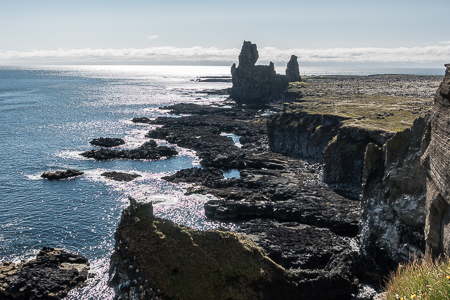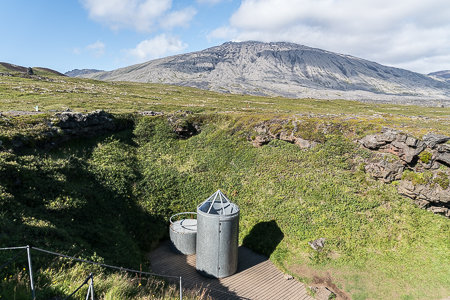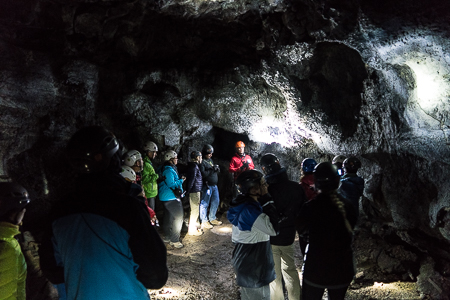 Kirkjufell ("Church Hill")
Another scene you may recognize from the posters.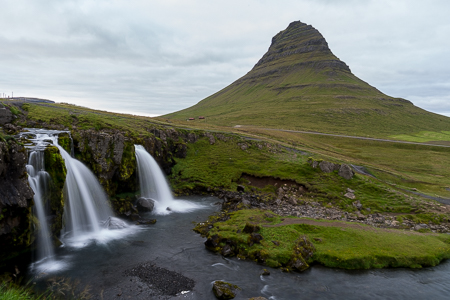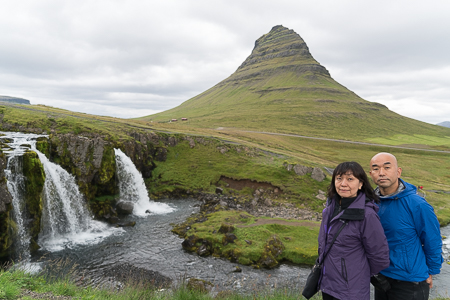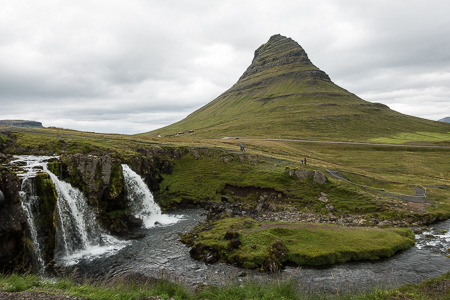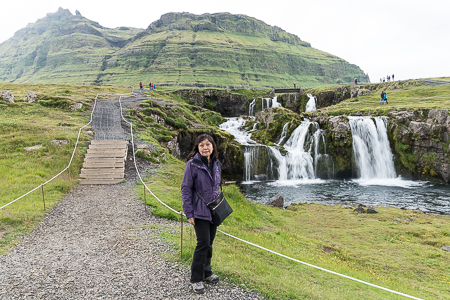 Reykjavik ("Steamy Bay")
Reykjavik is a small city and doesn't need too much time to explore. Fiding (affordable) lodging and parking is always a problem.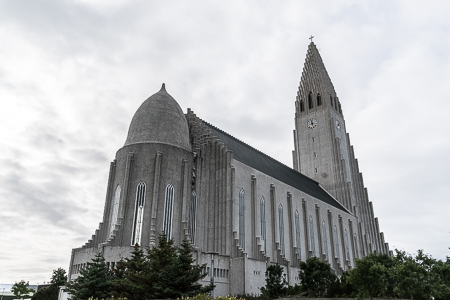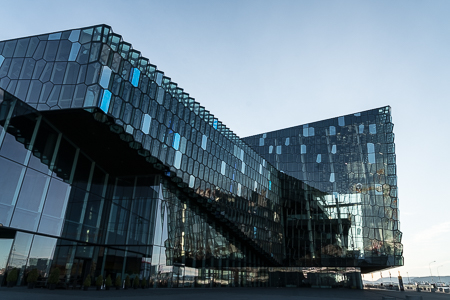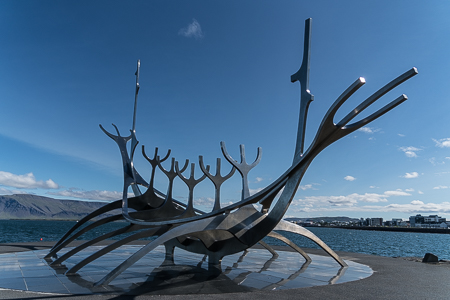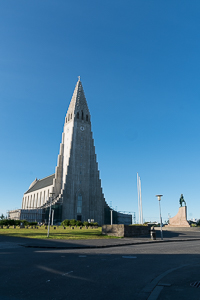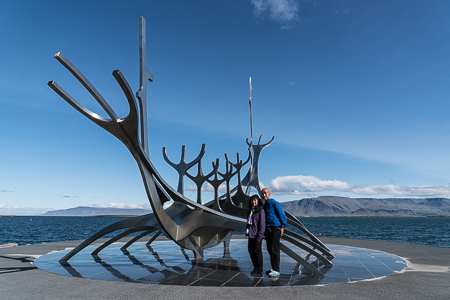 Blue Lagoon
The famous geothermal spa
Blue Lagoon
($60 .. $100 / person) is something you have to reserve way in advance. We followed our friends' advice and booked an early slot of 8 AM entry. They were right -- we enjoyed our experience all the way until 3 PM! :) (including lunch)

Greenland
This picture reminds you to download the Maps.me before boading the plane. It showed me the location of the plane and helped me take these great pictures of Greenland.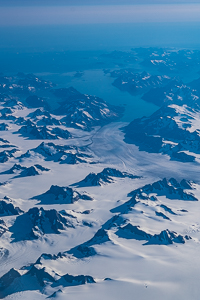 360-degree images
I brought my Ricoh Theta S and Theta SC (long story) as usual. I uploaded the 360-degree images to Momento360.com, a new 360-degree image hosting site I just found.
Iceland Travel Guide
How to plan a trip to Iceland
First, you have to decide if [A] you stay around Reykjavik and take tours to see waterfalls, geyser, ice cave, lava tube, etc., or [B] you want to rent a car and go around the country. ([B] is what we did.)
[A] is recommended if you have only a few days or if your trip is in the winter (icy road). First, find the tours you would be interested in, then plan your schedule accordingly.
Since most points of interests (natural wonders) are accessible by driving and hiking, driving yourself [B] gives you a much more freedom, especially during the summer with long daylights. You still have to join a tour for glacier walk, ice cave, lava tube, etc.
If you are going during the popular season (spring to fall), be sure to book your air tickets, rental car and lodgings way in advance (we reserved 5 months before). You also have to reserve the tours and Blue Lagoon (see above) in advance if you are interested.
As mentioned below, the 10 Day Self Drive map helped us decide the locations for the lodgings. However, if we knew what we know right now, we would have planned our trip like this:
Day 1: Somewhere outside Reykjavik -- Hotels in Reykjavik (and Akureyri) are small, expensive and have no parking. Unless you are planning to enjoy night life, there is no need to book a hotel in downtown.
Day 2: Somewhere between Eyjafjallajökull and Vik
Day 4: Somewhere around Höfn
Day 5: Lake Hotel Egilsstadir
Day 6: Vogafjós Guesthouse
Day 6+1: Add one night if you are going northeast like Vopnafjörður (we didn't)
Day 7: Somewhere between Akureyri and Snaefellsjoekull peninsula if you are going to the big northwest peninsula (we didn't)
Day 8: Snaefellsjoekull peninsula or around Borgarnes
Day 9: Somewhere between Reykjavik and Keflavik airport -- Depending on if/when you are going to Blue Lagoon, Day 1 and Day 9 should be exchanged or adjusted.
"Somewhere" above means we didn't like the place we stayed or we didn't actually go there.
Resources
Google Maps
I created a custom map that shows all the places we visited and wanted to visit:
Apps
Google Maps has the feature of downloading the map in advance for offline use. However, an app called Maps.me worked better in many situations. It also showed me the location while we were flying back over Greenland.
Travel Guides
This site helped us tremendously when we were planning our trip and booking accommodations.
If you like watching the movies shot in your destination before or after the trip (like we do), here is a good lists. The first website includes a great map.
Videos
First 10 videos are more informational and don't contain too much of the beautiful video footage in case you don't like "spoilers".
Holiday Extras Travel Guide
The following videos show the beautiful scenery of Iceland in HD. (If you don't want to see too much of your destination before you go, skip the rest of the video list.)
"Unique Iceland" by Icelandair -- Detailed guide of each region